Watch Video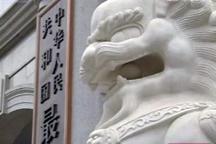 Play Video
Q2: The people you spoke to in your story, what's their opinion on the major challenges in the fight against corruption? And how have delegates been reacting to the report?
As you can see in my story, the new media is playing an increasingly important role in supervising the government and the authorities.
Recent cases of official corruption have aroused public anger, such as an official wearing a luxury watch at the scene of an accident. Thousands of people have gone on-line to call for better measures to fight corruption. Public supervision is gaining momentum.
The expert I spoke with has done a lot of research on high-profile corruption cases. He told me China now faces a complicated situation domestically and internationally. And public supervision is rising as an important factor in the anti-corruption compaign. Some say severe punishment is the key. But experts say to root out the problem, we need fundamental changes in the legal and judicial system. And concentrate on improving anti-corruption education. 660,000 officials have been dealt with over the past five years. The number shows the central government's determination.
The delegates had heated discussions on the General Secretary Hu Jintao's speech. They say they were inspired, and they know challenges remain for the new leadership.
Editor:Zhou Minxi |Source: CCTV.com