Watch Video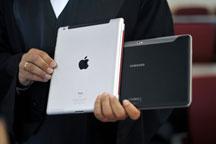 Play Video
Samsung took a hit in its battle against Apple on Tuesday, when the European Union announced it will investigate whether the company is illegally trying to hinder its competitors. Germany also took steps to block the sale of some Samsung tablets.
Samsung has lost its bid to overturn a ruling barring its unit in Germany from selling an older version of its Galaxy tablets.Its a symbolic legal victory for Apple, as Samsung had already redesigned the tablet to get around the ban.Ulrich Egger is a spokesman for the higher regional court in Dusseldorf.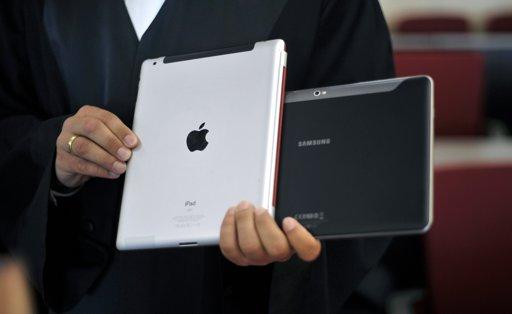 In this Aug. 25, 2011 file photo a lawyer holds an Apple iPad and a Samsung Tablet-PC
at a court in Duesseldorf, Germany. The Duesseldorf state court ruled Tuesday, Jan.
31, 2012, that neither the South Korean company's Galaxy Tab 10.1 nor the Galaxy Tab
8.9 could be sold in Germany because they were in violation of unfair competition
laws.
Ulrich Egger, Spokesman of Dusseldorf Regional Court said "The judges have decided that there must be a prohibition of sale in Germany for two Samsung models. The judges have denied a Europe-wide ban. According to them, there is no infringement of the European design patent. In their estimation the Samsung model and the declared Apple design patent are sufficiently different. But they did rule a breach of the fair competition laws."
It was not the only setback for Samsung which is fighting to gain ground against Apple - the leading player in an increasing crowded market for tablet computers.
In Brussels, European Union regulators launched a probe into whether Samsung had breached anti-trust rules in its legal battle against competitors.
In 1998, the company pledged to license its patents to the European Telecommunications Standards Institute.
The European Commission says it will investigate whether recent efforts by the company to gain injunctions for patent infringements violate that commitment.
Samsung also supplies Apple, but as the patent spat demonstrates the battle for smartphone and tablet dominance is becoming increasingly acrimonious.
Related stories
Editor:Zhang Hao |Source: CNTV.CN