Watch Video

Play Video
More than 60 people have died due to the cold weather that is affecting Eastern Europe. The freezing weather has even forced some countries to call in the army to help secure food and medical supplies and set up emergency shelters for the homeless.
An unusually severe cold front has hit several countries in Eastern Europe.The temperature in Ukraine sank to minus 33 degrees Celsius, the coldest in six years.
The authorities there say at least 30 people have died in the past five days. Most of the victims were found on the streets.Hundreds of heated tents have been set up to provide shelter and hand out food to the homeless.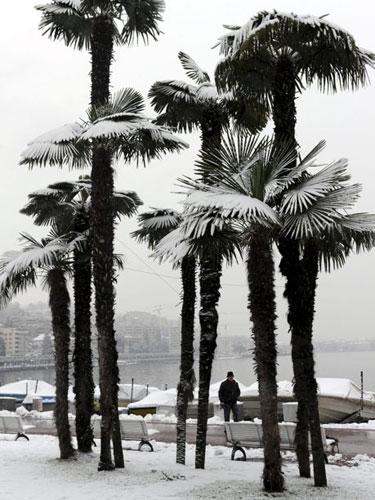 A man passes snow covered palm trees at lake Lungolago in Lugano,
Switzerland, Tuesday, Jan. 31, 2012. After a period of relatively
mild weather a cold spell has reached central and eastern Europe.
(AP Photo/Keystone, Karl Mathis)
Andriy Andrushenko, a rescue worker said "Here are our heating tents for homeless people for free. For the last three days each rescue point caters to over 150 people."
Meanwhile, hospitals have been kept busy treating people with cold-related injuries.
Freezing temperatures have also wreaked havoc in Turkey. Heavy snow led to traffic jams on Istanbul's major roads, bringing cars to a standstill. Commuters waited for long hours at bus stops and some were left with no options other than to walk.
Maritime transportation also fell to a trickle, as many ferry operators cancelled their trips.People in Poland, Romania, Bulgaria and Serbia also face blizzards. It's perhaps the coldest winter they've ever experienced.
A man looks from behind a frosty window on a tram on a cold winters day in Sofia,
Tuesday, Jan. 31, 2012. Heavy snow and freezing weather on Monday led to some deaths
in Serbia and Bulgaria, prompting authorities to close down schools and introduce
emergency measures.
Related stories
Editor:Zhang Hao |Source: CNTV.CN