Watch Video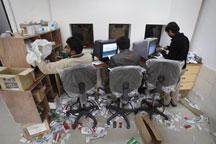 Play Video
The death toll from Pakistan's heart-drug scandal has risen to 122. According to the national health department, nearly five hundred have now fallen ill and over sixty are in critical condition. Most of the affected are in the city of Lahore.
The suspected drugs were given free to patients by the state-run Punjab Institute of Cardiology, in Lahore, the capital of Punjab province.
The hospital distributes free cardiovascular medicine to over 600,000 patients annually.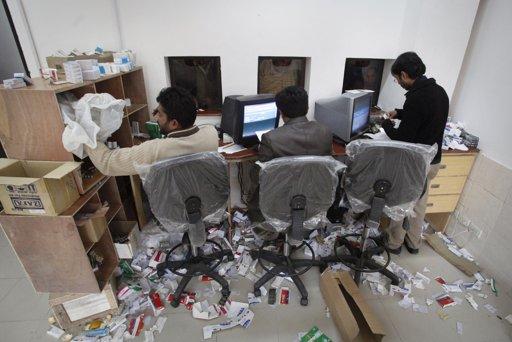 Hospital staff sit behind the counter of a pharmacy as they distribute free medication
to cardiac patients at the Punjab Institute of Cardiology (PIC) in Lahore January 26,
2012. The government in Pakistan's Punjab province is scrambling to recall contaminated
drugs that have killed at least 100 people over the last month, provincial health
officials said on Thursday, local media reported.
The owners of the three local drug companies, suspected to have supplied the contaminated medicines, have been arrested.The government has also launched a campaign warning people not to use the faulty batch of drugs.
The supreme court of Pakistan has taken a Suo Moto notice now looking into the matter on its own motion.
Drug samples have been sent to London and Paris for further investigation, which could take weeks.Adnan Shahid, Medical Superintendent of Mayo Hospital said "We are receiving more and more patients and we are making arrangements and increasing our capacity to deal with such patients."
A batch of contaminated medicine was dispatched to forty thousand cardiac patients, since last December.Those who were informed in time now queue at the Punjab institute of Cardiology to exchange suspect packs of drugs for replacements.
Manzor Ul Haq, a patient said "Due to these medicines I was sick for almost one month and became weak.When I heard about the faulty drugs I came to see a doctor and he diagnosed that my illness was because of the faulty medicines."
There is country wide panic, fear and awe, over the notorious fake medicine scam. Medical experts expect further deaths in the coming days.
Meanwhile a blame game has begun between the provincial and political governments, as no one is stepping ahead to own the responsibility for this calamity.
A sum of a little over 5000 dollars has been announced as compensation for the family of each victim. But this will not bring back their dead. Experts say, it is now time for the government to take up the matter moreseriously instead of political point scoring. They say sophisticated drug testing laboratories should be set up immediately so that similar crisis does not take place in the future.
Related stories
Editor:Zhang Hao |Source: CNTV.CN