Watch Video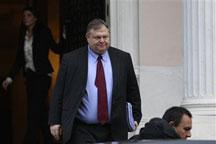 Play Video
Greece's Finance Minister has said that the country must take what he described as "difficult" decisions in the coming days to clinch a debt swap agreement and a 130 billion euro bailout package needed to avoid an unruly default.
Evangelos Venizelos, Greek Finance Minister said "We need to do our job. We need to finalise the negotiations for the new programme by the end of the week. Without a new bailout program there cannot be the necessary funding, and the debt swap deal cannot be completed. The PSI deal, as the International Institute of Finance has said on behalf of the private sector, is one step, and I would say one formality step from completion."
Near-bankrupt Greece is struggling to convince sceptical lenders it can ram through austerity measures to help bridge a funding shortfall driven by a worsening economic climate and its previous reform plan having veered off track.
The Greek government acknowledges that the main sticking points in talks with the so-called "troika" of international lenders - the European Central Bank, the EU and the International Monetary Fund -- revolved around spending cuts and labour reform. Greek bank shares and the euro rose on hopes of a debt restructuring deal being finalised this week between Greece and private bankers to slash Greece's debt by 100 billion euros which would also free up the next tranche of aid for Greece.
Editor:Zhang Hao |Source: CNTV.CN