Watch Video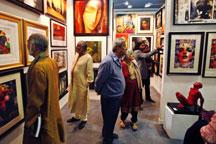 Play Video
The fourth Art Fair has just closed in New Delhi. The weekend event showcased art from India and abroad.
Combining appreciation with cash.That was the aim of the art fair in the Indian capital, as over ninety contributors from twenty countries put their work on show.Of prominence in New Dehli was artwork from the Middle East.
Salwa Zeidan, an Artist & Gallery owner said "Now we have seen in few art fairs in the Arab world some few works that's been happening now and at the same time, of this Arab Spring. And we'll see more definitely because it's affecting everyone. And I think it's really good. I am with the change and I like this, you know, people are saying what they want to say, people are moving in to say, 'hello, we are here, we want a change'."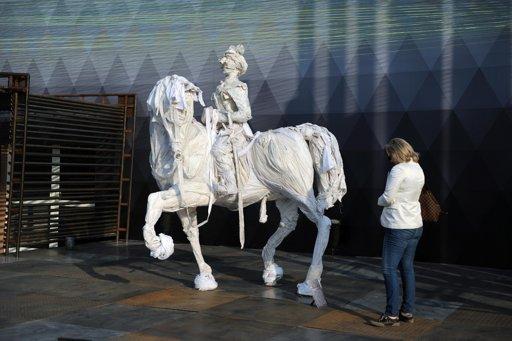 A visitor is seen looking at a sculpture by Indian artist Siddharth Karawal at the
India Art Fair in New Delhi, on January 25.
But home grown pieces also have their place at the fair, as Indian artists are keen to promote their work to the global market.
Penu Modi, Gallery Director said "The most important is, besides national, we are getting a lot of international attention. People who don't know much about Indian art, they all come and important collectors and important museums have also been visiting this year. That's a wonderful, positive sign."
The annual event has been gaining ground in the art world since its establishment in 2008, with more artists wanting to showcase their work.
Ellie Harrison-Read, Gallery exhibitor said "We have seen a really dramatic evolution in the fair since our first year participating. It's become clearly a very global, international forum and there's lots of European galleries now taking part along with some fantastic artists from South Asia."
The tens of thousand of potential buyers and art lovers visiting New Delhi have given a much deserved boost to India's art market.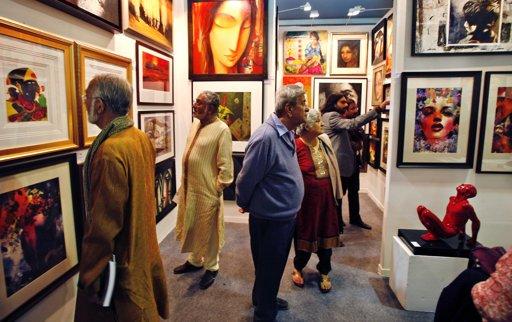 Visitors look at work of art on display at the India Art Fair in New Delhi, India,
Friday, Jan. 27, 2012. The fair consists of work by more than one thousand artists
from India and around the world and runs from January 26-29. (AP Photo/Gurinder Osan)
Editor:Zhang Hao |Source: CNTV.CN