Watch Video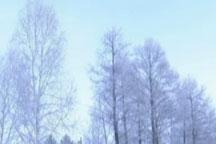 Play Video
Many places in China have experienced extreme weather this winter. The Inner Mongolia Autonomous Region reports nearly half of the region has been hit by massive snowfall.
Some places have seen accumulation as deep as 28 centimeters,. Most of grazing grass was buried by snow. Forecasters say the east of Inner Mongolia as well as Heilongjiang province will see small to moderate snow later Friday. Local authorities suggest herders reduce grazing activity and increase the grass storage ahead of the snowfall.
Elsewhere, the central province of Hunan and the eastern provinces of Jiangxi and Fujian and as well as Guizhou and Sichuan in the southwest will see heavy fog on Friday. In Northwest China's Ningxia Hui Autonomous region, strong wind will continue with sand and dust in the air, and experts recommend local residents take timely precautionary measures. In Shanxi Province in the north, residents have seen increasing amounts of dust-haze in the air since November.
Experts say people should reduce outdoor activities in such weather conditions to avoid inhaling particulate matters in the air.
Related stories
Editor:Lu Jiaying |Source: CCTV.com