Journalist, at CCTV Africa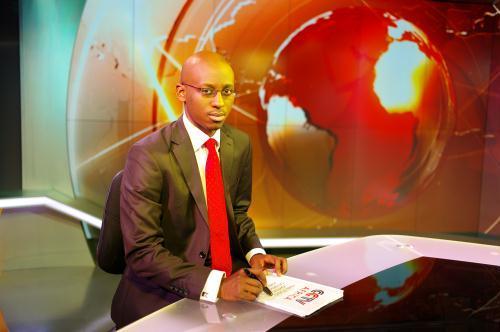 Ramah Nyang
Summary
Since 2006 I have been working across the full spectrum of Broadcast Media in Kenya, as a journalist and presenter on radio and television.
Business news is my key area of expertise. Given the commodities boom in Africa, its' fast-growing and vibrant population, and its' slow shift to better governance and more open and democratic societies, I believe African countries are full of as-yet unexploited opportunities. By the same token however, the continent has several risks.
My job is to tell both sides of Africa's business case, to the widest possible audience, in the most timely, and engaging manner.
Specialties
TV News Production, Radio News Production, News Presentation, Moderation, News Scripting
Experience
Business Anchor & Reporter at CCTV News International
June 2012 - Present (6 months)
Based in Nairobi, I'm part of a team that sources and collates business news from around the continent and
puts it into perspective for our audiences in Africa, and Asia.
TV News Editor/Presenter at Radio Africa Ltd
July 2010 - June 2012 (2 years)
I'm part of a team of 3 Editors, in charge of the creation and execution of News Content on Kiss TV. We have
a team of about 12 people who produce a half hour bulletin, every weekday at 2000h.
9 recommendations available upon request
Presenter at Radio One
April 2010 - July 2010 (4 months)
I was briefly in charge of setting up a morning talk show at this station. Later, prior to my departure, I
focused on setting up a talk show for broadcast in the evening.
It currently broadcasts in Kenya, as 97.1 One FM.
Anchor-Producer, KTN Newsnight at KTN
November 2009 - March 2010 (5 months)
After 9 months as the anchor and producer of KTN's Morning Show - Sunrise - I created Kenya's first hybrid news& talk show.
Working with a team of 6, I was in charge of research of content and the moderation of debates on air.
2 recommendations available upon request
Anchor-Producer at KTN
January 2009 - December 2009 (1 year)
In this role, I was the producer of the station's Morning Show at KTN. Based on my past experience in radio,
I was also an anchor on the show, working with a team of 4 on-air presenters, and another 10 technical staff
members, behind the scenes.
5 recommendations available upon request
Business News Writer and NewsReader, at Radio Africa
August 2006 - January 2009 (2 years 6 months)
Radio Africa is the holding company for the top Urban Radio brands in Kenya; -- Classic 105 and Kiss 100.
As a Business Writer, I was part of a team of 3 which gathers and packages the Financial data, Market Trends, Data and Deals, relevant to my audience.
As the Breakfast News Caster it was my job to edit, package and present the day's latest news to an audience of 18-24 and 25-34, mostly middle class Kenyans across the country.
4 recommendations available upon request
Intern at Electricity Regulatory Board
May 2006 - July 2006 (3 months)
This was my first experience with Corporate Communications.
In the course of my time here, I worked with a team that evaluated Media and Public Relations strategies aimed at educating the Kenyan public about electricity conservation, and developing the Power-Sector Regulator's public profile.
I also was part of team that evaluated and refined the Board's corporate communications policy; -- the first for a regulatory authority in Kenya, as well as Eastern and Southern Africa.
Newsreader at Shine FM, Daystar University
August 2005 - May 2006 (10 months)
This was my first encounter with Broadcast Media.
At this student-run radio station, I started out as a newscaster, then gradually moved on to become the
Presenter and Producer of a Weekly Current Affairs show every Wenesday morning.
Twitter: Ramah @Ramah_Nyang