Khotan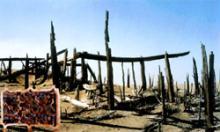 Niya Ruin
Niya Ruin: Niya Ruin is a national key site protected for historical and cultural value. The total area of the site is 132 km2, surrounded with huge pyramid-type sand mountains west, east and north; and the south part is of lower landform. It is 20km long from north to south and over 10km wide from east to west.
Altay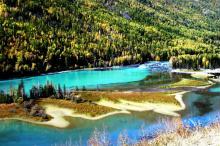 Kanas
Kanas: as a national scenic site of 4A, national nature reserve, civilized demonstration scenic site of national tourism, national geological park, national forestry park and the eighth biggest base for photographers' creative work in China, Kanas is located in Buerjin County, middle part of Altay Mountain in north Xinjiang. Being 162km away from Buerjin County, the site could be reached via National Highway 217 and then the road to the scenic site. Kanas is a scenic site integrating natural scenery with folk custom.
Kezilesu Kirgiz Autonomous Prefecture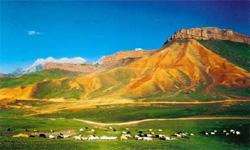 Yuqitashi Grassland Scenic Spot
Yuqitashi Grassland Scenic Spot: located in Wuluqiati Township which is 148km southeast to Wuqia County, Yuqitashi Grassland Scenic Spot is a grassland landscape area covering natural scenery, ethnic customs and grassland landscape with an area of 18 km2. "Yuqitashi" refers to "Three Stones" in Kirgiz language, and the scenic spot consists of three sites: Yuqitashi Grassland, Waterfall and Spa Area of thermal spring.
Boertala Mongolian Autonomous Prefecture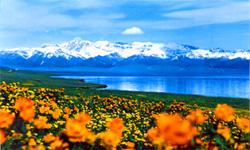 Sailimu-Lake Scenic Spot
Sailimu-Lake Scenic Spot: As a famous national key scenic site of alpine lake and grassland type, Sailimu-Lake Scenic Spot is 1301.4 km2 totally and features natural landscapes including lake, swamp, grassland, forest and jokul, consisting of sightseeing, recreation, historic cultural exploration of north branch of ancient Silk Road and ethnic customs experience.
Kelamayi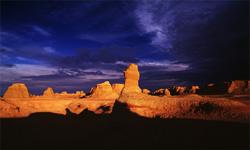 Wuerhe Ghost City
Wuerhe Ghost City: Wuerhe Ghost City is 120 km2 totally and concentrates the typical geological spectacle of yardang landform; at the scenic spot, there are a variety of wind-eroded group complexes looking like temple, terrace, pavilion, castle or human, bird or other animals, presenting a splendid and mysterious sight.
Kuitun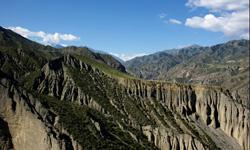 Grand Canyon in Kuitun
Grand Canyon in Kuitun: located at north foot of Tianshan Mountain, Grand Canyon in Kuitun is of the stratum consisting of gravel and sand completely, which should be the seabed in the distant past, and uplift to be the land after geological movement.
Turpan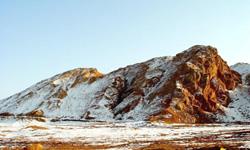 Huoyanshan (Burning Mountain) Scenic Spot
Huoyanshan (Burning Mountain) Scenic Spot: Huoyanshan Scenic Spot is about 98km from east to west and 6-10km from north to south, and the peak is of altitude 851m; it is shown with Tertiary sandy conglomerate on the bare ground that Huoyanshan formed before Himalayan orogeny, about 200 million years ago.
Bayinguoleng Mongolian Autonomous Prefecture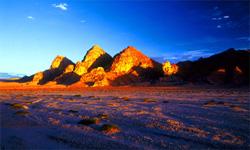 Aerjin Mountain
Aerjin Mountain: Aerjin Mountain is famous for its typical ecological system of primeval plateau and hoofed plateau animals, covering 45 thousand km2 at average altitude 4500m and surrounded by mountains around, presenting a splendid view with ridges and peaks.